Lowrance LMS 350 NEMA interface
Here's a way to connect your LMS350A to your computer to manage your waypoints. It's a pretty basic program, but it works well. This is part of the manual showing the hookup to your computer so you can get an idea of how it works. The page didn't copy properly, but it gives you an idea of what's involved. Email me for more details if you are interested.
NOTE: If you would like the software, email me.
Lowrance LMS350 GPS Waypoint and Route Management
The LMS350 is an excellent sonar and GPS unit, which supports 5 channel receivers with the earlier models and 12 channel receivers in the later models. This unit however did not come with any PC based utility to manage waypoints so that operation is typically done from the LMS350 operating panel, a rather cumbersome process.
While the LMS350 has the capability to download and upload waypoints, Lowrance does not sell a communications cable for this purpose. With a custom-built serial port communications cable and a very useful program however, you can upload or download your waypoints to and from your LMS350 making it much easier to manage your various waypoints and routes.
This custom cable is simple to construct and will interface to the green and white wires coming from your LMS350 power cable harness that provides the NEMA 0183 interface to your unit. You will also make a ground connection that is necessary to ensure a common reference for the two communicating devices (your PC and the LMS350).
This is diagram identifies the required connections for the two NEMA wires and ground.
Green - Transmit to Pin 3
Connect the NEMA Interface

Wires as note here:
White to Pin 2
Green to Pin 3

Ground to Pin 5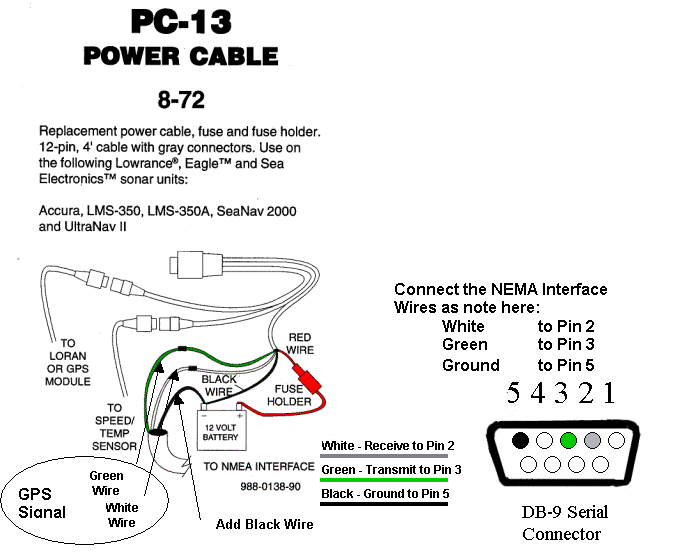 As an option to purchasing an extra power cable you can also make up a cable using pins that directly plug into the LMS350 power connector. Be very careful with this approach, and insulate the pins so you do not short pins and potentially damage the unit.
This is a diagram of the 12-pin power plug on the LMS 350 as viewed from the back of the unit.
Drain (Speed/Temp Ground)

Connection View on back of LMS350

Mirror Image when looking at back of unit

LMS350/A 12 Pin Power Connector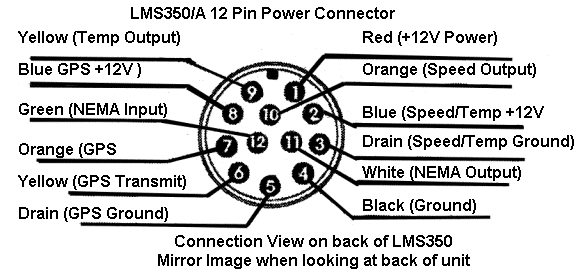 The factory power cable is available directly from Lowrance ($47.50 w shipping - 12 pin 4' cable with gray connector, model PC-13, Part number 8-72, from LEI Accessories at http://www.lowrance.com/accessories/). They also may be purchased from dealers who handle Lowrance accessories. I have seen them in the $20 price range so it is a good investment, particularly if you can pick one up for $20.
Attached is the WS-1 software needed to Upload/Download to/from the LMS-350. The program provides the ability to identify and name up to 200 waypoints and maintain them as files on your PC. It offers you the ability to maintain separate files for different lakes and routes and then load the one you need for a given trip. Just open this program and save it to a directory on your hard drvie.
Once you have loaded the software on your PC you need to set up the comm. port on both the program and your PC to the required settings. From the WS-1 program select File and then COMM Port Settings. Select the settings as noted here:
9600 baud
No Parity
8 Data Bits
1 Stop Bit
This is the display you will see for setting up the comm. port in the program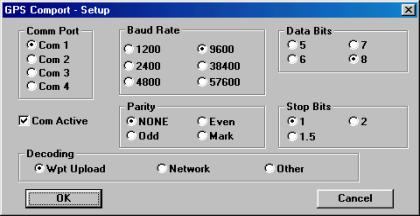 Also ensure your PC has it's COMM Port set accordingly. You get to this through your Control Panel, System, Device Manager, Ports, Comm 1, Port Settings, and set accordingly. It should look like this: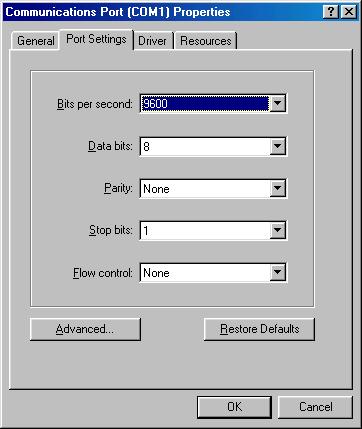 In order to initialize the LMS350 to communicate with your PC, take the following steps which will set up the LMS 350 in preparation to transfer the waypoints.
1) With the unit turned on, place it in GPS mode and press the Menu key 4 times to display screen 4.
2) Look for a key on the left side of the display with no options (if there is no key without options, press menu again to the next page). Press the key with no options 5 times.
3) The next screen displayed shows the operating time on the unit. The unit is now in a mode to communicate with WS-1 program.
Your first step should be to download any waypoints from your LMS350 so you do not accidentally over write them.
To do this, open the WS-1 Program and select "File" and "Open" to open a new file.
Then select the Download Tab and select "Download Waypoint Table From Unit".
The LMS350 will then transfer your waypoints into your PC. An alarm will sound on the LMS350 when this transfer is complete, usually just a few seconds.
Once you have edited your waypoints you can transfer them back to the LMS350 by simply selecting the UPLOAD tab and proceed accordingly.
This program does not have a lot of features but you can copy and paste these waypoints into an EXCEL spreadsheet to help sort them out. If you do this, when pasting into EXCEL they will all be in one column. This is not very useful in sorting the way points so go to the data tab of EXCEL and select the "Text to Columns Option" this will then allow you to separate the longitude, latitude and description into separate columns. Once you sort them out however you will need to load them back into the program manually as you can not cut and paste from EXCEL into the WS-1 Program File.
That is all there is to it. Although not needed for the waypoint management connections, just for the sake of completeness the following are the diagrams and pin functions for the other two connections on the LMS-350 power cable in case you have use for them.
Speed/Temp Connector (Female)