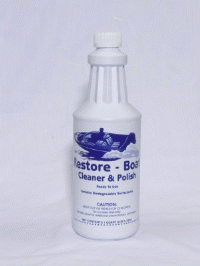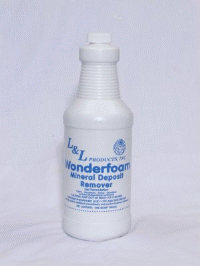 L&L Products
I have used both of these products. Restore-Boat cleaner and polish and Wonderfoam Mineral Deposit Remover. Both are excellent. Wonderfoam is really good at removing all kinds of water spots. My boat has black paint on it, and its a real test for a water spot cleaner. And my motor is an I/O, it gets some nasty water scale stains as water from the engine block drips out of the water pump tattle tale hole. Wonderfoam cleans it right off.
Restore-Boat cleaner is very handy at giving a quick fluff-and-buff to the exterior. I don't have to haul out the bucket and hose (unless it got caked with dirt). Just spray on Restore and wipe it off with a clean towel. The best thing about it is the slippery wax like finish it leaves. Its a durable shine also.
Both products have been getting very good reviews on the Walleye Central message board also.
You can buy the from Nels Larsen, a distributor and Skeeter on Walleye Central.
They make other cleaners as well, these are the ones I have used and can comment on.
Click here to contact Nels Larsen or call 989-837-2681 for orders or inquiries.