Welcome to my web site!
The purpose of this site is to share with you not so much the how to's of Great Lakes fishing, but would just like to give information on how I rigged my boat, what I have found successful as far as fishing goes, resources I have found on the web, and just to have some fun! This site is a work in progress, so please don't mind the dust while I tinker with it! It's not really organized well, yet. I am trying different things out to see how they work.
I mostly fish for walleye on the Detroit River and Western Lake Erie. I also enjoy chasing Salmon on Lake Huron, although my new boat isn't set up with my downriggers yet.
I am a member of the Downriver Walleye Federation, a very nice bunch of people. The club has enjoyed enormous growth the last few years.
I am a regular contributor to the Walleye Central message boards.
This page was last updated on 07/19/03.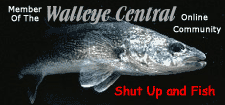 <! -- serial # 041801-1 --> <! -- serial # 041801-1 -->
Email me to submit your boat pics
and descriptions!